Water Parks: Revenue after dark
Attendance levels at water parks hit their peak during summer, but how do operators fully capitalise on revenue all year round?
Extending opening hours to capture the night-time economy at water parks is a popular growth strategy. Future-proofing all revenue streams is a consideration Pico Play carefully investigates and recommends during the feasibility report stage for clients.
The night scene of the water park adds a time dimension and a totally different environment and brings new experiences. A great example is Chimelong Water Park Guangzhou. During the day, guests enjoy water slides, family rides, massage pools and water shows. After dark, they hype themselves up for a mega water party, complete with a DJ, an aquatic flying trapeze team and charismatic MCs.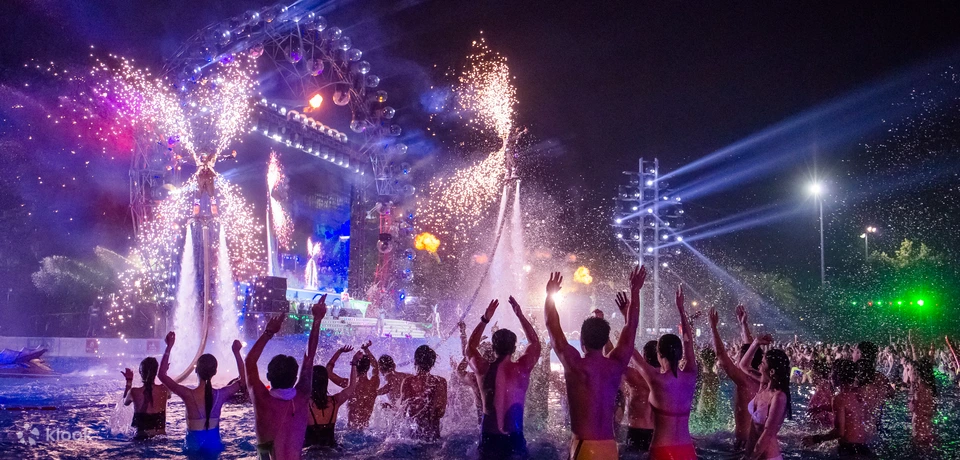 Chimelong Water Park Guangzhou
Noel Dempsey is the business director at Pico Play and has extensive experience operating theme parks and large-scale attractions. "Developing a night-time business for water parks just simply makes good commercial sense.  Not only is an attraction asset utilized across a new day part, but it may also be more suitable for guest to enjoy the experience. Some locations can be extremely hot during the day, and it becomes a more enjoyable experience at night where guests can also enjoy a new style of attraction.  Importantly, it also has the potential to drive new revenue where shows, meals and other activations may be purchased separately".
Movie night can be a lot more fun with a "Dive-In Movie". During summer in Wet'n'Wild, guests can enjoy floating the night away in the Giant Wave Pool while watching a movie in an open-air cinema. Turning the waterslides and pools into performance venues can become the focal point for guests. Light shows, special events or music performances attract the attention of the public – especially the younger ones.
Wet'n'Wild Gold Coast
Considering the development of the economy and more selective employment, living habits and life rhythm have changed, making the night the best time to socialize, meet and have a moment of leisure. In this way, the night-time park can meet the demand of this clientele and generate more revenue.
The water park completely changes its atmosphere after sunset. After enjoying a full day of roller coasters and rides, families and children go home and the park starts to fill up with teenagers and young people, attracting a new audience, creating a new offer for a new segment, attracting a new audience, a new offering for a new segment.
Carefully curating your night-time experience within restricted leisure zones enables lower operating costs, as it is possible to close attractions to reduce operational and staffing requirements.
Therefore, investing in night attractions at water parks can bring a totally different and innovative atmosphere to guests, generating brand identification and loyalty.
Reference: https://www.klook.com/en-AU/activity/3340-chimelong-waterpark-guangzhou/
https://wetnwild.com.au/attractions/dive-n-movies